Ladakh, India, attracts tourists not only for its majestic nature but also for its unique and interesting culture and lifestyle.
Glacier: Ladakh is an area in the Indian states of Jammu and Kashmir, leaning against the southern part of the Himalayas. With an altitude of 3,000-5,000 m, Ladakh has a cold and harsh climate. There are many glaciers squeezing across the Himalayas, including Drang-Drung Glacier, with its source of white ice, gradually descending to a height where water begins to flow.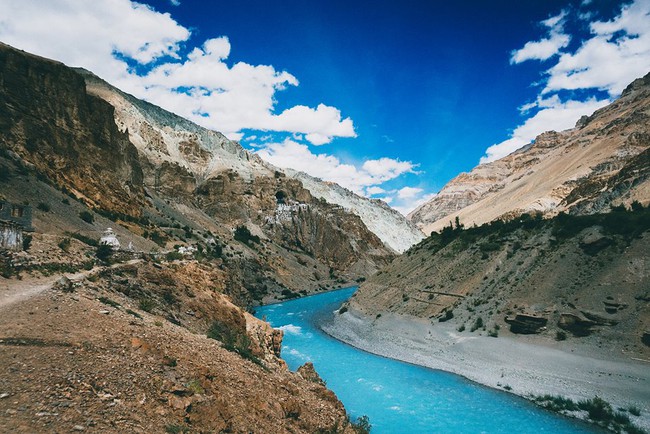 Moondland: The terrain of Ladakh is diverse, there are plains stretching flat, but there are mountainous areas with interestingly shaped ground. The Moonland area has a topography like the moon's surface, with irregular, irregularly shaped blocks of rock.
Rare paved roads: Also because of uneven terrain, arid conditions and lack of facilities, Ladakh rarely rare beautiful and flat roads like this.
"Juley": Ladakh people often use the word "Juley" to express the meaning of thank you, hello, goodbye…
Lungta flags: The Lungta flags are typical images when coming to Tibet, Nepal, Bhutan and even Ladakh. The flag has many colors, symbolizing the elements of nature such as water, gas, heaven, fire and earth. People here believe that when the wind comes, it will spread prayers on the flags.
Barley: Barley is an important agricultural product of the Ladakh people, providing energy for people and cattle in the harsh weather. People harvest barley for cattle and put it on the roof. They have a special way to store rice for their cattle, and when the cattle come and eat it will drop by itself.
How to take the grass: Ladakh women harvest and pile the grass, then the men will lie on and turn over the pile of grass, hanging on their backs. A pile of grass is 2-3 times the size of a farmer.
Yak: This type of cow is considered the hegemony of the Ladakh pasture. They can cross with other cattle and create a genetic source for the herd of cattle here. Not all houses have good male Yak varieties. Therefore, the houses will pay or exchange goods so that the males of other breeds can mate with their own cows.
Lack of electricity: The villages in the Himalayas are quite physically deprived. In recent years, people only have electricity and use for a few hours at night.
WC in Ladakh: This place is probably the toilet land with the most special things. The toilet is not built for private hours but is well ventilated, creating a beautiful sky and clouds.